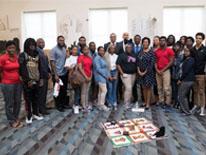 Mission
The ONSE Leadership Academies utilizes a Positive Youth Development (PYD) approach, which has its origins in the field of prevention. This model promotes positive outcomes for youth by fostering relationships with caring adults, engaging youth in experiences that promote growth and personal learning, and creating environments where youth feel safe and cared for.
The program focuses on student ABC'S – attendance, behavior, course performance, and safety/safe passage.
Identifying Students
Students are referred to the program by school personnel (principals, assistant principals, counselors, and social workers) in consultation with the ONSE staff.
OLA Academy Schools
SY 21-22
Paul Public Charter High School
HD Woodson High School
Anacostia High School
SY 22-23 (additional schools)
Paul Public Charter Middle School
Kelly Miller Middle School
Kramer Middle School
OLA has partnered with DCPS to help foster a school culture that cultivates a welcoming, positive, safe, orderly, and healthy environment that is student-centered, developmentally appropriate and supportive. OLA partners with community-based organizations to ensure the physical and emotional safety of every student. OLA connects students and their families to support services necessary to engage students in school.
OLA uses positive reinforcement, re-direction, de-escalation, meditation, conflict resolution, and non-disciplinary interventions to correct behavior. In the school climate, OLA staff enable and encourage students to reflect on their actions, learn from their mistakes, and restore relationships that have been negatively impacted. OLA has provided interventions that respect individuals, balance the interests of the school community, and minimize disruption of academic instruction.