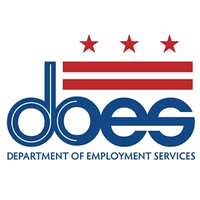 Department of Employment Services
The Department of Employment Services (DOES) is a critical partner of ONSE's Pathways Program. DOES funds Pathways participant wages, assists with worksite cultivation and participant matching, and provides job coaching supports during the phase of subsidized employment. As the District's leading workforce agency, DOES's support ensures that all workforce development aspects of the Pathways program are in line with industry best practices.
Anacostia High School
ONSE is pleased to have been given the opportunity to serve District of Columbia Public Schools students attending Anacostia High School. ONSE staff work hand-in-hand with Anacostia High School administrators, teachers, and paraprofessionals to provide evidence-based interventions to improve attendance, behavior, and academic performance of off-track students.

Johns Hopkins University's Center for Government Excellence
In FY 2020, ONSE began a partnership with the Center for Government Excellence (GovEx) at Johns Hopkins University to undergo a 360-degree Data Governance Assessment. This assessment will allow ONSE to document and improve its internal data infrastructure and management practices to increase access and use of data to track ONSE's violence reduction and prevention efforts. This assessment will also better position ONSE to use data to make informed decisions and to effectively partner with external research institutions conducting independent evaluations of ONSE's work.

Department of Youth Rehabilitation Services
The Department of Youth Rehabilitation Services Credible Messengers Program provides transformative mentoring to all Pathways Program participants.Credible messengers are neighborhood leaders, experienced youth advocates and individuals with relevant life experiences whose role is to help youth transform attitudes and behaviors around violence. They serve young people whose needs go far beyond the traditional mentoring approach of companionship, confidence-building and typical academic, social or career guidance.

OSSE's DC ReEngagement Center
The DC ReEngagement Center is co-located at ONSE headquarters and is a critical partner of the agency, particularly the Pathways Program. The ReEngagement Center serves District residents who have dropped out of high school and would like to get back on track to attain a high school diploma or GED. The space is equipped with a state of the art computer lab, private intake spaces, showers, washer and dryers, and a food and clothing pantry.